SING IT LOUD
Jul 21
[video]
Jul 19
[video]
Jul 16
"Here With You" Music Video Premiere -
Go watch it now and spread the word!
Jul 15
NEW Rock Yourself To Sleep Tour Blog from Chris!
Hey all! Hope everyone is having a great week! I'm currently sitting backstage at the social in Orlando right next to my good friend Luis from the Secret handshake. It's been so hot and humid that it feels like I'm in a constant shower at one of the local Motel 6's, but the shows have been insane and the crowds have been more than energetic. We are coming down to the last two weeks of this tour and its already starting to break my heart. Everyone's having a great time and we all hang out wherever we go. One big happy family!! I want to say thanks once again to all of you who make this possible and make every night of our lives memorable and so enjoyable. It's been awesome playing some new songs off the new record "Everything Collide" and watching the crowd respond so well and know every single world. It puts a huge smile on my face. We worked really hard on the record and did what we wanted and its turning out great! If you haven't picked up the new record yet, you can still do so at any FYE, Hot Topic, Best Buy & iTunes. We are having our new music video for "Here With You" premiere tomorrow on "AP TV" so make sure to check that out at http://altpress.com/aptv/. We have the south and east coast left on this tour so if your in the area PLEASE feel free to come hang out and say hey! Thanks again to all of you with so much love.

Chris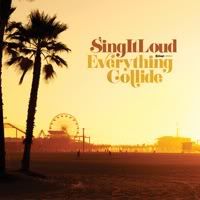 Everything Collide
featuring 'Sugar Sweet'
DOWNLOAD IT NOW
Jul 14
NEW Rock Yourself To Sleep Tour Photo Blog from Ben!
Hey friends, Ben here. So today I had on of our managers' interns bugging the shit out of me to finish this photo blog..I was really stuck trying to think of a subject but I knew I had to finish it so Jose would stop bothering me! So I've been racking my brain with something a little different to show you guys this week. I decided I'd show you how perfectly boring our van rides our. They're nothing exciting but I managed to take some really pretty pictures of such a monotonous and colorless task. THE TYPICALLY VAN RIDE.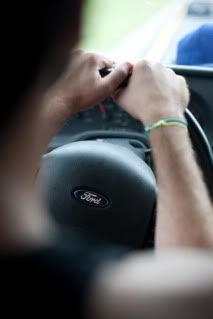 Fueling Up!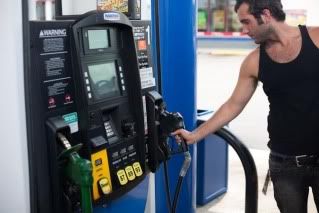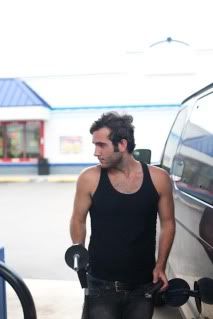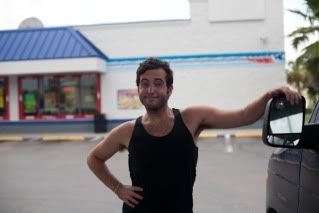 Sometime gas pumps don't have stoppers so we have to put our wallet between the lever and handle to make sure we don't have to hold on for the entire fill up!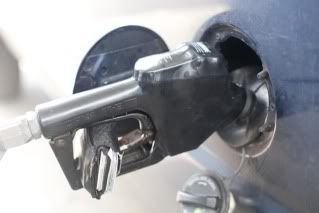 11 gallons for $30 is slightly sad… the saddest part is is that the van has a 30 gallon tank!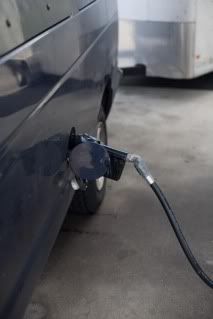 Yeah those are real bones we doung in the desert…no big deal.


Travis and I on the drive. Kind of a dope picture!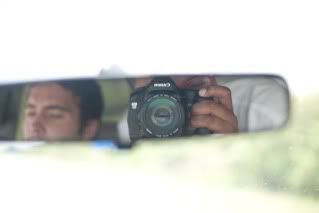 Everyone else is asleep! This is what it looks like if you look back from the first bench!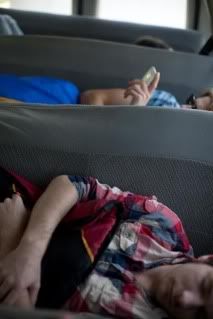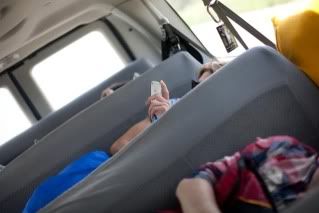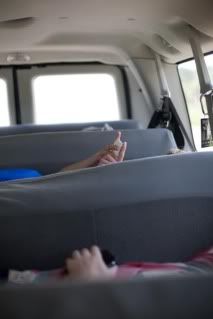 Travis driving with no hands!!!!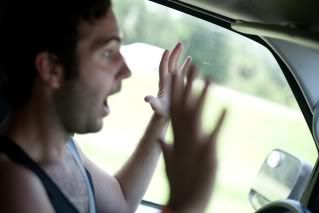 Brett loves his goldfish!!!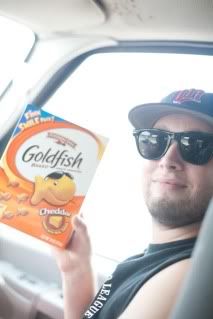 Kieren didn't want to show his face!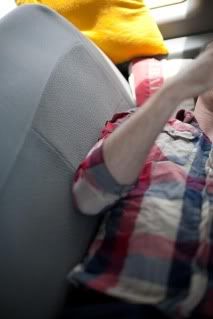 Kieren loves panda express.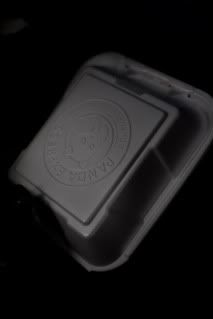 Hobit feet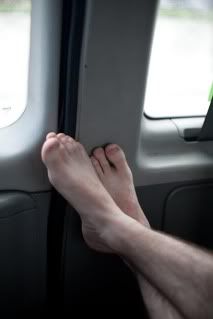 Hobit face;)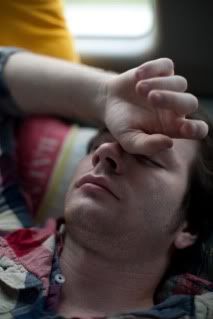 Nate doesn't talk to anyone but his ipod…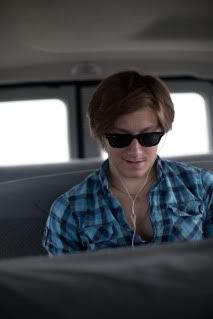 Driving through Florida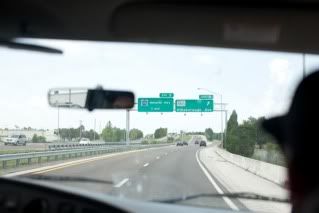 Jamming music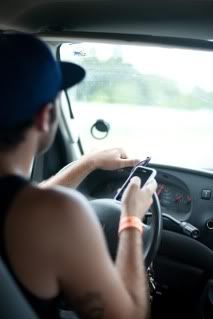 The center consol.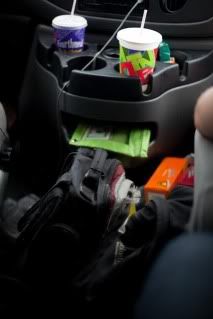 Todd, texting ugly girls.


Travis 'naving on his phone.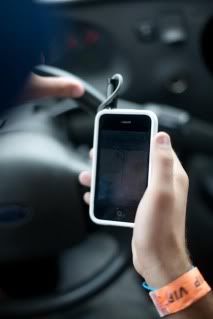 brett… stunnin;


I hate paying tolls!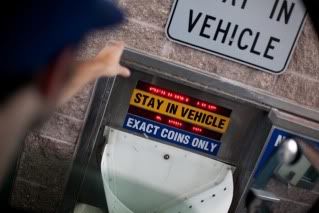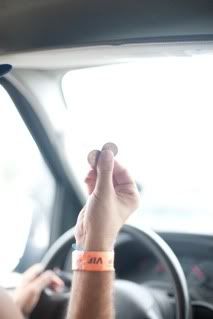 Todd likes to show his muscles.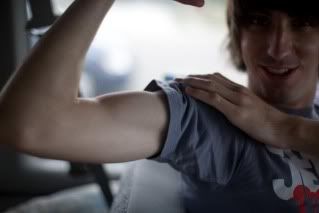 Kieren likes to count money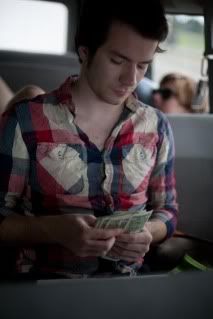 Todd makes weird faces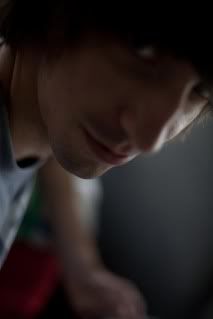 Todd tecting ugly girls again.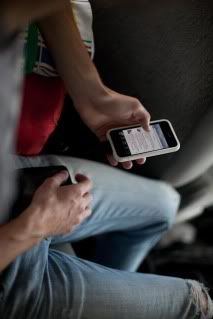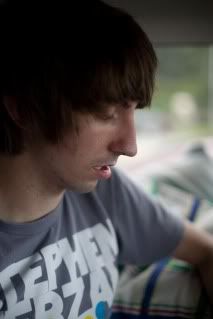 Travis laughing about it…


THE DRIVE»»»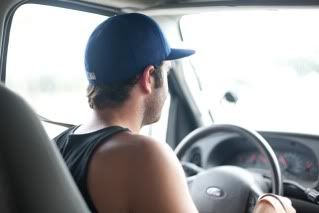 Stay Fresh,
Mr. Benjamin Peterson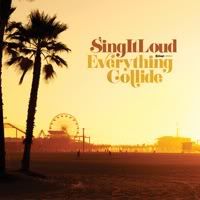 Everything Collide
featuring 'Sugar Sweet'
DOWNLOAD IT NOW
[video]
Jul 12
[video]
Jul 10
Check out our ShockHound Playlist and some of Pat's favorite tunes right now! -
Check out our ShockHound Playlist and some of Pat's favorite tunes right now!
Jul 09
NEW Rock Yourself To Sleep Tour Blog from Kieren!
Man it's been a long week! Tour is officially half way over. We played an amazing home show a few days ago and it was really nice seeing all our friends and family. We also had the privilege of playing the Chicago White Sox pre-game. I have never been much of a sports fan, but I truly enjoyed all the hospitality we received from the staff at US Cellular field. Plus, who can complain about open bar and free food!

The only downside to this week is that our van AC went out. We just got that fixed today though. It seems like we have very bad van luck, but the reality of it is that we have put 170,000 miles on it in two years! We bought it in the fall of 2007 with 30,000 miles and we are about to break 200,000!

This will be our last tour for a few months, so please if you haven't already, come out to a show and kick it with us! Seeing our amazing fans every day is our favorite part of being in this band. We wouldn't be here without any of you! Until next time…

-K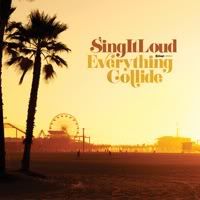 Everything Collide
featuring 'Sugar Sweet'
DOWNLOAD IT NOW
Jul 06
NEW Rock Yourself To Sleep Tour Blog from Nate!
Hey there,
We are currently in our hometown of Minneapolis MN today. I couldn't be more stoked to be playing a show here. There's something about playing a hometown show that is such a rush.  You have all of your friends and family there supporting you plus a lot of the fans that were there from the very beginning.  It's definitely an awesome feeling. This tour has been quite the journey. We started in Altoona, Pennsylvania and we've made our way all the way to the west coast and now we are on our way back to the east coast. Sing It Loud has the worst trailer luck ever. It seems like every tour we go on somehow we manage to mess up our trailer one way or another. It's almost become quite comical haha. I just want to say thank you to everyone who supports music in general and to everyone who supports us. If it wasn't for you, we wouldn't be able to do what we love to do.  We love writing and playing music and all of you make that possible for us. Thank you from the bottom of our hearts. If you haven't come out to a show yet, there are dates on our myspace. Hope to see you soon. Have a fantastic day!
Nate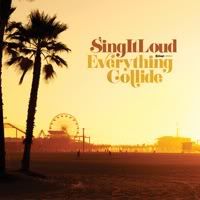 Everything Collide
featuring 'Sugar Sweet'
DOWNLOAD IT NOW
Jul 03
NEW Rock Yourself To Sleep Tour Blog from Pat!
Yesterday while we were in Seattle WA (one of my favorite cities!) I had an extremely inspiring experience. At El Corazon before it was time for us to play I met up with some guys at the bar and had a few drinks with them. They told me that they had just got home from a 1 year long tour in Iraq serving for our country.

One of them told me that our music is one of the things that helped them through their rough days and their great days. He said "People like you are the reason that I go to Iraq for our country. People that I care about that impact my life in a positive way. Your bands music has had an impact on my life and I go to defend our country so people like you can continue to do what you do here in America." And then what he said next legitimately made me tear up. He said "Next time you are having a bad day or feel like you're going to have a bad show, think about us. We go over seas to fight for our country and the thing that pumps us up the most is YOUR MUSIC. It gets us through our days and helps us find comfort and safety. If you ever walk on stage and are bummed out no matter where you are, please sing it louder for me."

Wow. I didn't even know what to say back to him so I gave him the biggest hug ever and tried my best to hide the fact that I was tearing up. Haha. It just makes me think that so many people including myself sometimes are and have been very apathetic and unsupportive about whats going on over there. I'm a lover and not a fighter and I'm sure a lot of you guys feel the same way but we can't ever forget that the reason people that serve for our country are over there doing what they do is so the rest of us back here that they love can continue on living our lives. My point of this whole blog is that it is so easy to take the simple things for granted. I do it, you do it, we all do it. If anyone can tell me they've never done it then you are a fucking liar. I just think we all need to sit back a little bit more than we do and think about how beautiful and important the little things in life are and support and thank the people who help make these little things possible by going over seas to defend our country. I know I will.

PB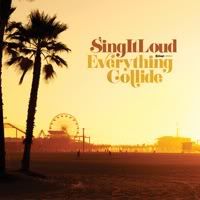 Everything Collide
featuring 'Sugar Sweet'
DOWNLOAD IT NOW
Jul 01
[video]
Jun 30
[video]
Jun 29
NEW Rock Yourself To Sleep Tour Blog from Chris!
Lovely morning in San Francisco. It is 11:13 am on Monday June 28th, 2010. I just woke up in the hotel room about to start getting ready for the show tonight at Slims! We've played here a few times and I love the venue and it's surrounding area. I want to take this time/blog to let each and every one of of our fans know how much you guys mean to us and how much of an impact you guys have in our lives. It's amazing to be able to do what you love and actually have people so interested in what you do to where they support you to the max! Thanks to anyone and everyone who picked up everything collide! If you haven't yet please swing by a FYE, Best Buy, Hot Topic or just come hang out at a show! I usually write about an update or something weird and unusual but today I'm thanking Ya'll! With all my heart, thank you!!! Come hang out :)

Have a blessed day

Christopher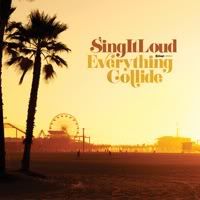 Everything Collide
featuring 'Sugar Sweet'
DOWNLOAD IT NOW
Jun 28
NEW Rock Yourself To Sleep Tour Photo Blog from Ben!
Hey guys, Ben here! We have been playing and Hanging out in the LA area for the past couple days. I took a bunch of photos documenting the whole shebang!

Day 1 - Pomona, CA. Let me start by saying, I had a lovely time in Pomona! I walked down and got a fresh hair cut, I got some Mexican food from a local street fair and even "iced" my friend Joe for the first time. Here's a batch of photos of us gettin wet and wild at the venue!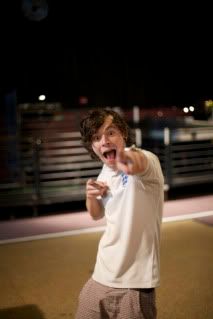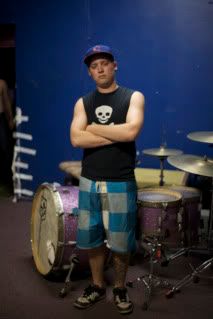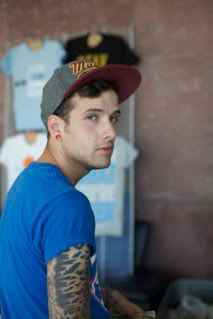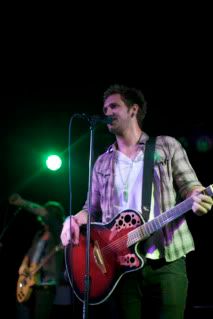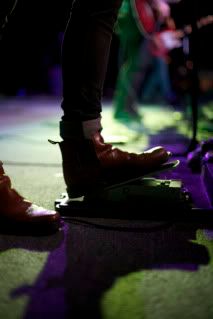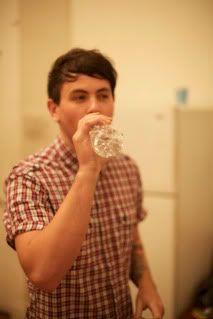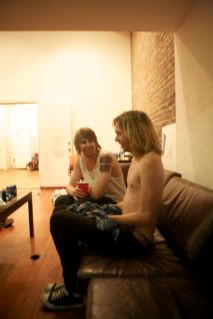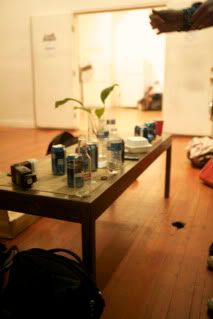 Day 2 - Los Angeles.
This was easily one of the best days I've had in a while and it's all thanks to my girls Katie and Cassidy! Katie is a Badass rockstar, she's in the band KSM! And Cassidy is a dope actress on one of my fav TV shows, Entourage!
The ladies came and picked up Nathan and myself and took us to PF Changs and Manhattan beach! We also stopped at the coolest candy shop on Manhattan Beach. The name slips my mind so if any of you recognize it let me know!!!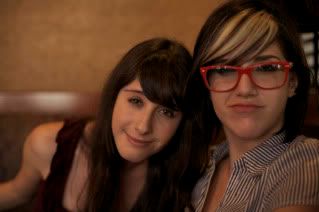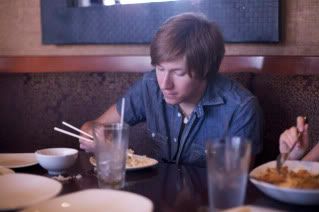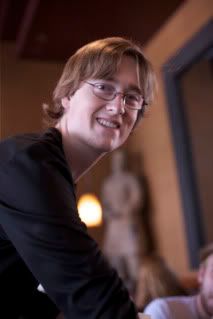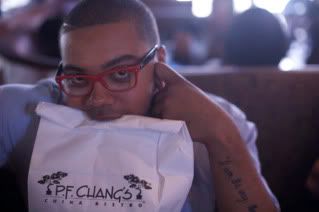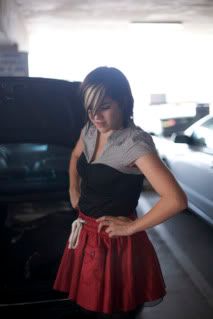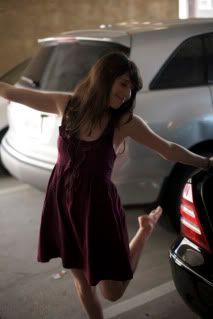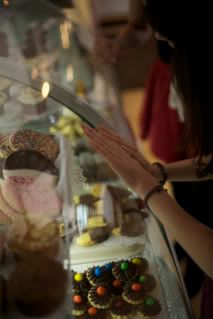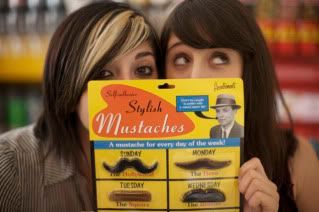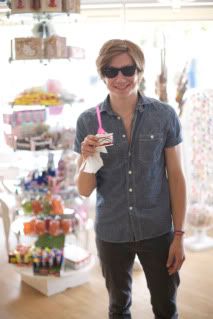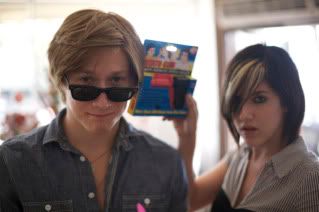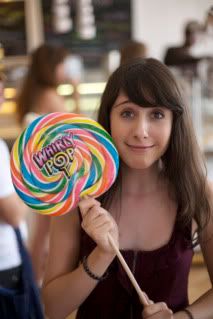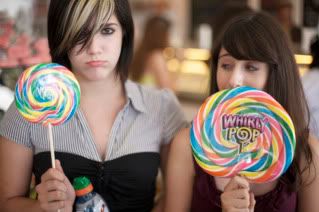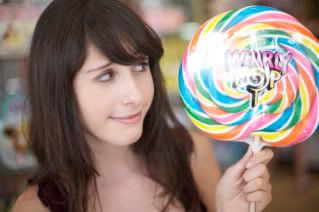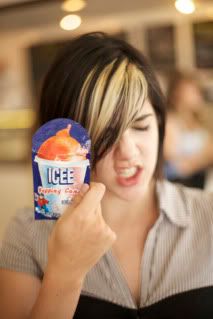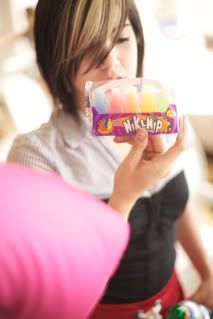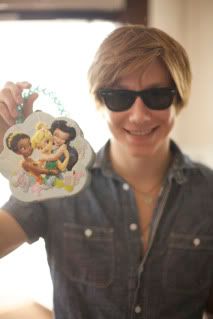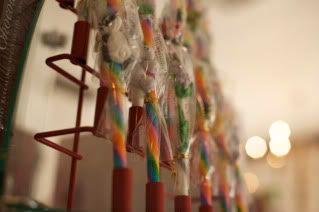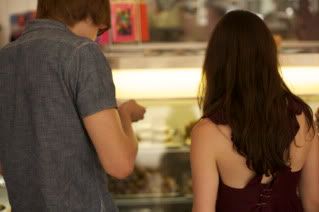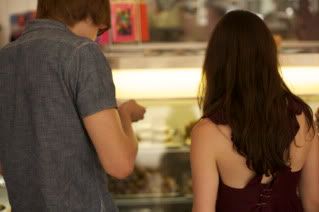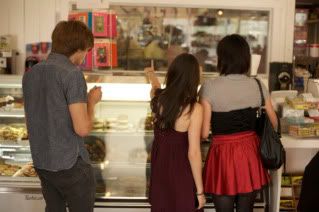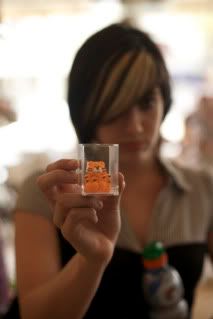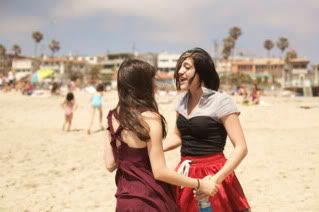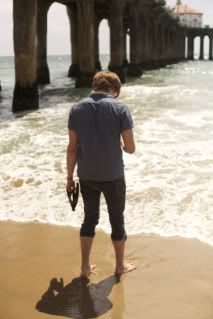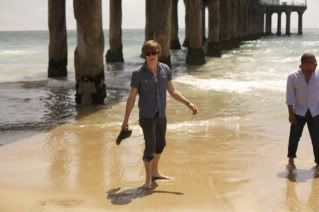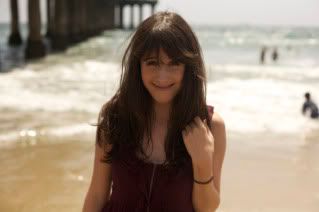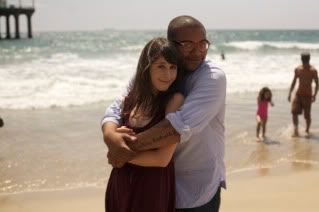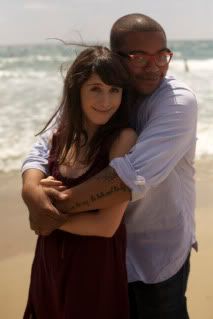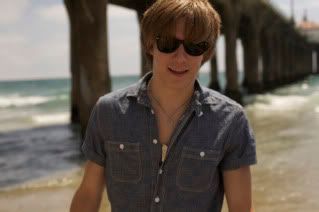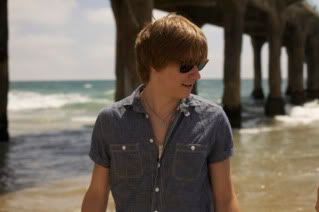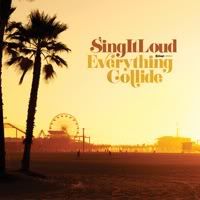 Everything Collide
featuring 'Sugar Sweet'
DOWNLOAD IT NOW